At the beginning of 1980, Panufnik received a commission from the Boston Symphony Orchestra to compose a symphony for its centenary. Before starting that work, he needed to complete other compositions, also written as commissions. These were: Concertino for Timpani, Percussion and Strings, String Quartet No. 2 'Messages' and the short Paean for wind instruments. Having completed those, in August 1980, the composer was able to commence work on his eighth symphony. The new symphony, entitled Sinfonia Votiva, was written between August 1980 and August 1981.
Although my eighth symphony is an abstract work without programme content, it carries a definite spiritual and patriotic message. It is a votive offering to the miraculous icon of the Black Madonna of Częstochowa in my native Poland.
The composer followed the events taking place in Poland with great attention and anxiety, pouring his feelings into the music he was creating. Thus, although the work does not have a literary programme, it gives witness to those events and to Panufnik's strong bond with the homeland he left behind, both through its dedication and through its powerful emotional content.
Soon after, Panufnik received another commission from the other side of the Atlantic; this time he was to write a piece for the Koussevitzky Music Foundation, based in New York. He decided to create a more intimate, chamber work, and the result of this decision is Arbor Cosmica for strings. On the occasion of its first prerformance in New York, the composer met Robert Thompson, an American bassoonist who, on behalf of the Polish culture club 'Polanki' in Milwaukee commissioned from Panufnik a Bassoon Concerto.
The 1980s brought a true run of successes for Panufnik: in 1983 the jury of the Composers' Competition in Monaco decided to honour him with a lifetime achievement award; in 1984 he became an honorary member of London's Royal Academy of Music; in 1985 he was awarded an honorary doctorate by the Polish University in Exile; in 1987 he became an honorary member of the Polish Composers' Union. In 1990 he received an award from Poland's Ministry of Foreign Affairs, and in his last year – 1991 – he received a knighthood from the Queen, being the first Pole to have achieved such a distinction.
Camilla Panufnik
The importance of Panufnik for British culture was emphasised by the celebrations organised for his seventieth birthday in September 1984. The London Symphony Orchestra gave a special concert on 24 September 1984. The peformance included his Piano Concerto and Sinfonia Votiva, and the printed programme contained birthday wishes from British music institutions. After the concert there was a reception in honour of the composer, with an enormous birthday cake decorated with the first notes of the fanfare from Sinfonia Sacra. For Panufnik, this was an incredibly moving event:
I cut the cake standing there with my beautiful smiling wife and two extremely handsome, proud-looking teenage children. Just for a moment my mind swung back to my earlier loneliness, and all that I had undergone; then I looked round and saw not just my family but my friends from the orchestra, from my publishers and from throughout the musical world – even from the BBC! It was a warm and marvellous sensation. It had taken me perhaps until that moment to find that at last I was no longer an exile.
A year later Panufnik received a commission from London's Royal Philharmonic Society for his Symphony No. 9. Its first performance in February 1987 coincided with the publication of the composer's autobiography, Composing Myself.
Soon after, another commission came from Georg Solti, who asked for a symphonic work to celebrate the centenary of the Chicago Symphony Orchestra in 1990; in response, Panufnik composed Symphony No. 10.
Also in 1990, after Poland regained full independence, the Programme Committee of the International Festival of Contemporary Music Warsaw Autumn decided to organise an extended presentation of Panufnik's output. The composer was invited to conduct two concerts featuring exclusively his own works. Having until then firmly refused all invitations to Poland, this time, in a different political situation, he accepted.
At Warsaw airport the composer, together with his wife and children, was welcomed by a delegation from the Polish Composers' Union, and a small brass ensemble played his own Paean, as well as Krzesimir Dębski's Fanfare, composed especially for that occasion. The Panufniks spent a few days in Warsaw, filled with rehearsals, concerts and meetings with the authorities as well as friends not seen for many years. Witold Lutosławski and his wife gave a dinner in Panufniks' honour, and Wanda Warska with Andrzej Kurylewicz organised a concert for them in their Artists' Cellar in Warsaw's Old Town. Panufnik's first appearance on the rostrum at the National Philharmonic Hall was greeted by an ovation from the crowded audience which lasted some minutes. Both artistically and socially, the composer's return to his homeland was a great success.
Camilla Panufnik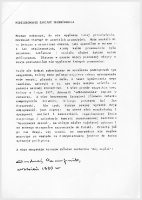 Camilla Panufnik
Panufnik himself was very touched and happy to have lived to see Poland regain full independence. He was making plans to visit Warsaw the following year, and to show Poland to his wife and children. He was to come again in 1991, to receive his honorary doctorate from Warsaw's Music Academy, and to conduct the Academy's orchestra playing his own compositions. Sadly, these plans were not to be realised...
Even before his visit to Poland, Panufnik was diagnosed with advanced cancer, which proved to be terminal. However, in spite of his deteriorating health, the composer continued his creative work – after returning from Poland he wrote String Quartet No. 3 'Wycinanki' [Paper-cuts] and started work on Cello Concerto for Mstislav Rostropovich.
In the summer of 1991 his condition worsened considerably, and he finished composing Cello Concerto lying in bed, cared for by his wife and children. At the end of the finished score manuscript he wrote the date: 19.9.91, with an exclamation mark next to it, amazed by the mirror symmetry of that date – a symmetry so in tune with his ideal, realised in the majority of his compositions, including Cello Concerto.
He died on the morning of 27 October 1991 at his home in Twickenham near London.